Quote by Brene Brown written in black on a blue background. Text says:
"You either walk inside your story and own it or you
stand outside your story and hustle through your worthiness"
Source
All right everyone, I know a lot of us are feeling it right now.
Doubling down to welcome our patrons,
worrying about a bunch of different stuff. Perhaps your
compassion fatigue
is pretty high and your
regular attempts at self-care
aren't working as well as they normally are.
I've got a post brewing that addresses this new normal, but until then, I figured I would put out this call:
Did you enjoy last year's
Summer Reading hype videos
?
Do you want to contribute to a culture of support in the Youth Services community?
Do you have tips, commiseration, encouragement or just plain humor that you want to share, connecting to others to lift each other up when the going gets tough?
I'm currently in search for volunteers to create a new batch of Summer Reading hype videos!
Quote by Brene Brown written in white on a farm scene background:
"The two most powerful words when we're in struggle?
'Me too.'"
Image credit: Jo Bradshaw
These 1-5 minute videos are posted on the Internet to be shared widely with the Youth Services community. You can be a Youth Services librarian, or someone else from the library world who just wants to thank youth services staff for what they do!
Warm Fuzzies:
I regretfully cannot compensate you, so the reward for your contribution will be warm fuzzies. I know that's not enough, but if you're like me you might be scrambling for some warm fuzzies right now, and I assure you this will help. A little (Also "exposure", blah blah...I know that doesn't pay the bills). You will retain all rights to your material and I will only upload your video if you do not have a platform for video sharing or choose not to share your video there.
Time commitment:
it really depends. I do not require any editing, though you're welcome to do that. I would ask that you include either captions or a transcript. Writing and filming
my contribution to last year's stash
, my video took me about 45 minutes. Editing would take longer but would make for a cleaner product.
Timeline:
I'd like to have my volunteers together by April 21, with final videos sent to me by May 22. If you're thinking you'd like to but you're unsure what to say, we can brainstorm together!
Ready to take the plunge?
Revisit
last year's Summer Reading Hype videos
for inspiration, then
email me at brycedontplay at gmail dot com by April 21
to get started!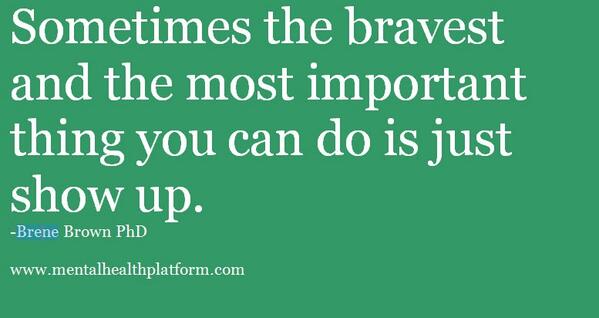 Quote from Brene Brown's "Daring Greatly" written in white on a green background:
"Sometimes the bravest and most important thing you can do is just show up."
Source
This summer might be one of our hardest ever. We're stronger together. Let's do this.