Poodles dancing in leotards
Katie Gatten is the Branch and Youth Services Administrator for the Mansfield/Richland County Library in Mansfield, OH, located directly between Columbus and Cleveland. There are 75,000 cardholders in their diverse county. For more information on their Summer Library Program, contact Katie a kgatten at mrcpl dot org.
This post will be decorated with GIFs of cute animals dancing because we all need that in our lives right now.
We decided to change up our Summer Library Program this year, having done the same program for many years. It wasn't a bad program, but we just wanted to try something fresh. We had been giving the kids reading records to complete with 7 images to check off that represented 15 minutes of reading time. When they turned in a completed record they got to pick a prize. This was the classic Rhode Island Novelty stuff that was cheap quality yet costly, and fell apart soon after the kids received it. Once the child completed 5 records and visited the library five times, they would also receive a final prize of a new paperback book of their choice.
Cat waving paws
We normally had around 4500 children participate county-wide, with about 48% completing the program and getting a book. What I really wanted to see was more kids being able to complete and get their free book because we have a very high poverty rate in our county and I think it makes a difference (for both their happiness and education!) for kids to have their own books. So I did A LOT of research and finally came across the
Tic Tac Toe sheets on the Bryce Don't Play blog
.
[Bryce note: that DOES look like Tic-Tac-Toe]
. We did 8 different Tic Tac Toe sheets and added different activities to the sheets rather than limited to reading for a set amount of time. We also did away with the cheap toy prizes (GASP!) and gave away
scented bookmarks purchased through Upstart
.
[Bryce note: this reminds me of how Angie at Fat Girl Reading advocates for useful prizes. I'm a fan!]
I thought this would be a major issue, but kids really liked them, and parents appreciated not having the broken stuff. I can't say everyone was over the moon about the bookmarks because by the end, I did have comments passed on to me about "How many bookmarks does a kid really need?" but you can't please everyone, especially with such a diverse county population. Next year we may try adding pencils or something like that to the mix, but it's hard to beat 7 cents for a prize!!
We still kept the final prize of a book, but we also let the kids continue turning in the Tic Tac Toe sheets so they could end up with 8 entries into our Grand Prize drawing which was a $25 Toys R Us gift card and we gave away several of those at each of our 9 locations.
So what was the end result??
I would like to report that our participation went up, but this didn't end up happening. Our Teen (and Adult) program changed also and their Grand Prize giveaways were a flat-screen, TV, and Xbox, and a tablet, so we lost a lot of the tween kids who can choose between the two. BUT their participation was WAY up, so it's all good. We got lots of comments about how families enjoyed having more activities to choose from to participate, and the percentage of kids who actually got a prize book went up to 57%, so I consider that a win!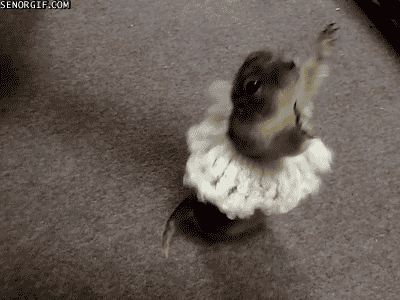 rodent in a tutu
We are going to modify for next year and have Bingo sheets instead of Tic Tac Toe sheets because one repeated comment was that the program was too easy for the older kids. We are also going to add an Early Learning program for the birth-preschool age crowd next summer.
Did you revamp your Summer Library Program and want to talk about it? Email me at brycedontplay at gmail dot com to guest post here!