Google image search: "Summer". Checks out.
A lot of times, my main audience is library staff, specifically in Youth Services. Sometimes, though, I like to talk to the public in general. This post is inspired by my non-librarian friends all over the country who love to tell me when they've connected to their local libraries—and right now I'm getting at least weekly messages that people are signing up for Summer Reading!
PARENTS: Sign yourself and your (possibly still in utero) children up for your local library's Summer Reading Program!
What is Summer Reading?
Summer Reading is an ongoing drop-in program happening throughout the summer across the United States (and across the northern hemisphere currently, if you want to get technical). Public libraries everywhere encourage children and families to read and engage in enriching literacy- and learning-based activities throughout the summer. Many programs involve a reading log or game card with which your child or family can track their reading and other activities throughout the summer. At intervals throughout the summer (minutes or books read, or sheets turned in), small prizes may be awarded, sometimes with the possibility of raffles for larger prizes. Many libraries choose to giveaway a book as a final prize or even as a sign up incentive.
Throughout the summer there also fun events to attend. Think parties, carnivals, concerts, programming series with a weekly "summer camp" feel… all at your public library!
Many libraries offer Summer Reading for ages 0-adult; meaning that it starts at age zero (obviously a read-to-me program). Adults can read for prizes and/or glory too!
As with the vast majority of public library programming, funding for Summer Reading comes from general programming funds or fundraising from the Friends of the Library group, so
you pay nothing to join!
Why should my family join Summer Reading?
Did I mention that YOU PAY NOTHING TO JOIN? Other than that, here are a few benefits of Summer Reading:

1.

The Summer Slide is a real, documented thing

. When kids do not read over summer vacation, their brains do not use the same connections that they do while in school. And what happens when a brain connection goes unused?

Your brain says, "whelp, guess I don't need this anymore!"

and literally gets rid of it. The result is that students who don't read over the summer

enter the school year up to three months behind

peers who read over the summer. The library is here to help!


2.

Family Connection:

research shows that creating a routine that helps your family to connect to each other

comes with a host of benefits.

Here are some routines you can build with your family when participating in Summer Reading:

-

Visiting the library every week or month:

find out what your child is really into by sharing the library together. Find a comfy chair and cuddle up to read together. Attend an event and have fun together. If you're having trouble having time to connect at home, the library can be your

"third place

" where you can enforce different expectations for your kids—AND yourself (you can definitely read that as "no cellphones", but you don't have to).

-Setting aside a time to work on Summer Reading:

have you always wanted to be "one of THOSE families" who reads together every night? Summer Reading is a great excuse to make that a reality. Take turns picking a book to read aloud together. Gentle stories at bedtime work well.

-Extra-important conversations:

Do meaningful discussions fall by the wayside once "how was school?" is no longer an option? Choose a longer book to read together or listen to an audio book together as the "family read" for the summer. Your conversations can then easily be about what you are reading! Talking about characters, plot, and setting is not only academic; you can learn a lot about your child's values and their understanding of the world through their experiences with books.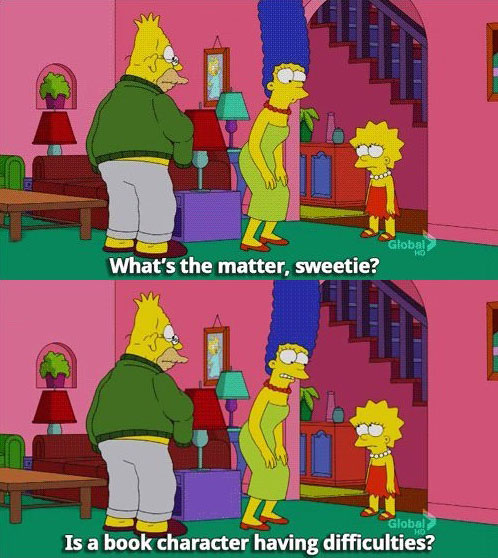 I've been watching a TON of Simpsons.
3. It'll kickstart YOUR reading habit:
You think I forgot about adults being readers? Skip a few steps on the
couch-to-5K reading challenge
by jumping in and joining Summer Reading!
Does my library have a Summer Reading Program?
Call or visit your local library to find out! Libraries plan throughout the year for the summer, and Summer Reading is a great microcosm of everything your library has to offer your community.
If you're in my current area, check out our countywide programs here:
WCCLS SRP
If you're in La Crosse, check out your super-great Summer Reading here:
LPL Summer Reading
PARENTS:
What fun stories do you have about Summer Reading at your library?
LIBRAR*:
What do YOU say to your parent friends to get them into their local library?